Mission
The Early Childhood Investment Corporation
(Please click the above ECIC logo for additional information on the statewide early childhood efforts.)
The Early Childhood Investment Corporation was founded in 2005 to be the state's focal point for information and investment in early childhood in Michigan. Among its tasks: Build a state-wide system of programs and supports for children birth to 5 and their parents, and as part of that effort lead the state's federal child care quality efforts. Why? Because child care is a critical key to early learning and development of young children.
Fifty-five Great Start Collaboratives serve as the local infrastructure for the Great Start system. These local groups of caring parents, educators, business and community leaders, clergy, law enforcement, philanthropic organizations, local public agencies and others are the "knowledge leaders" and "change agents" for young children and their families.
At the end of the day, Great Start is all about Michigan's children and families. So to inform the work of the collaboratives, 55 Great Start Parent Coalitions serve as the passionate local volunteers who provide education to community and state leaders about what's needed and the importance of investing in young children.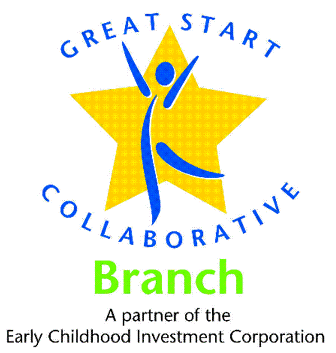 Mission Statement

The purpose of the Great Start Collaborative of Branch County is to assure a coordinated system of community resources and supports to assist all Branch County families in providing a Great Start for their children from birth to age five.

Vision Statement

All children in Branch County will start school healthy, safe and ready to succeed.

Collaboration Defined

A partnership of Branch County parents, community agencies, business leaders, healthcare providers, educators, foundations, faith leaders and individuals.
Strategic Planning
Great Start System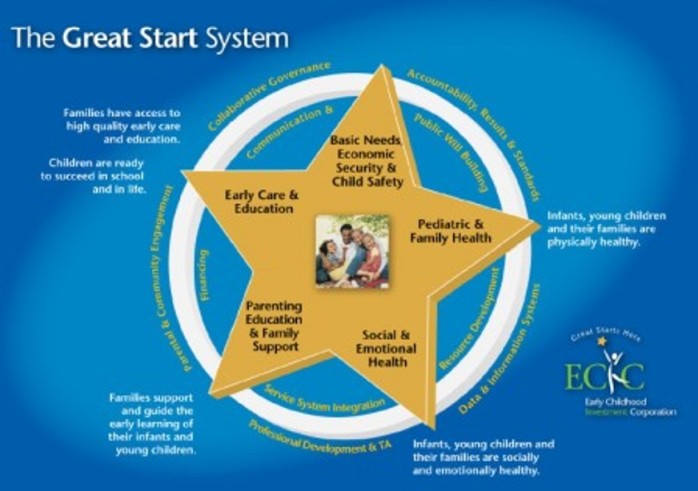 Pediatric & Family Health

Defined as comprehensive physical health and child development services – including screening, assessment, and intervention, as well as timely and appropriate referral for specialized developmental, behavioral and social-emotional assessments and interventions.

Social & Emotional Health

Defined as specialized screening, assessment and intervention services designed to promote the social-emotional well-being of all infants and young children, including infants and young children at-risk of developing emotional disturbances and infants and young children with diagnosed emotional disturbances.

Parenting Education & Family Support

Defined as services and supports for parents in the critical role they play in the healthy development of their infants and young children.

Early Care & Education

Earlycare (childcare) and education defined as services that support the early learning, health and social-emotional well-being of infants and young children.

Basic Needs & Economic Security

Defined as services and supports that address the basic, daily living needs of families as well as child and family safety.